122BPM Unveils Brand New Website for Music Education, Industry News, and Expert Insights
London, UK – 122BPM Magazine, a relatively new kid on the block in the music industry, is proud to announce the launch of its new website, 122BPM.com.
This new content platform aspires to be the ultimate online resource for music education, industry news, and expert insights, aiming to inspire and cultivate the next generation of music pioneers.
Homepage of 122BPM.com
A Hub for Music Education and Resources
122BPM offers an extensive range of music education materials, including deep-dive guides, tutorials, and articles for aspiring musicians and producers. Catering to diverse interests and skill levels, the website provides valuable content on music theory, songwriting, production techniques, performance, and more.
Users will find rich and comprehensive lessons, ensuring they receive the highest level of instruction to hone their craft.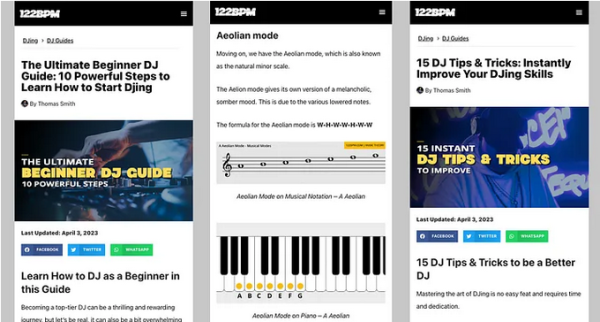 Content Screenshots (DJ Guide, Music Modes & DJ Tips)
A few examples of educational resources can be found on the website:
1. Master Major Scales in Music: The Ultimate Guide
2. The Ultimate Beginner DJ Guide: 10 Powerful Steps
3. Stunning Album Cover Design with AI: Step-by-Step Guide
Product Recommendations and Helpful Downloads
To further support its community, 122BPM will offer an exclusive section dedicated to product recommendations and helpful resource downloads.
This valuable resource is designed to help musicians and producers discover the latest software, hardware, and digital tools to elevate their creative process and enhance their music production capabilities.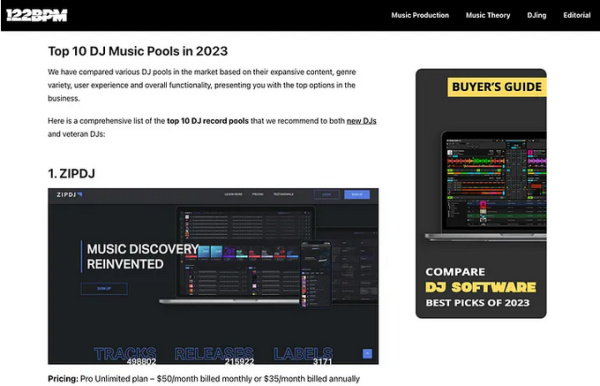 10 of the Best DJ Record Pools in 2023
From free loops and sample packs to discounted plugins and FX offers, 122BPM aspires to bring genuine opportunities to its readers that are genuinely helpful.
Expert Insights from Industry Professionals
In addition to educational content and product recommendations, 122BPM will feature expert insights from leading professionals in the music industry.
The team will host interviews and feature guest articles that provide unique perspectives on various topics, including songwriting, music production, and career development.
These valuable contributions will help users gain a deeper understanding of the music landscape and learn from the experiences of industry veterans.
Latest Industry News and Developments
Staying informed about the latest trends and developments in the music industry is crucial for success.
As part of 122BPM's product roadmap, a dedicated news section will be released to delivery up-to-date news and analysis on everything from emerging artists and chart-topping hits to technology advancements and music events.
The firm is already keeping ahead of the curve with coverage around AI technology and its use in music production, engineering and promotion.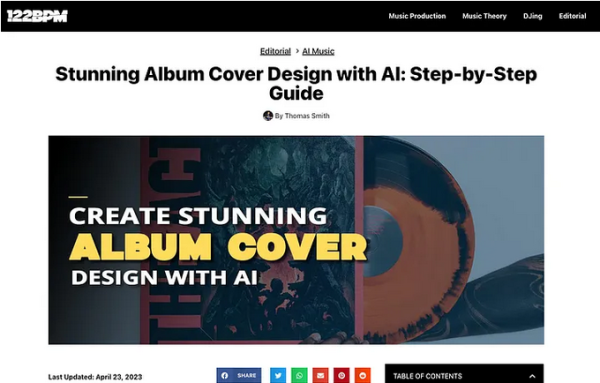 Stunning Album Cover Design with AI: Step-by-Step Guide
By providing a central source for relevant information, the website empowers users to stay connected to the ever-evolving world of music.
About the Team and Founder of 122BPM
The visionary and chief editor behind 122BPM, Thomas Smith, is committed to creating a vibrant and inclusive community for music creatives and fans.
With the launch of the website, the company takes a significant step toward realizing its vision of becoming the go-to destination for music education, news, and expert insights.
"I have ambitious goals for 122BPM, making it the go-to platform for inspiration and knowledge for the music community. We want to empower individuals to explore their unique musical talents and create a global community that transcends individual genres and styles."
– Thomas Smith, Founder and Chief Editor, 122BPM
Media Contact
Company Name: 122BPM Magazine
Contact Person: Thomas Smith
Email: Send Email
Country: United Kingdom
Website: www.122bpm.com