Gaurav Rana Announces Freebay App Where People Can Give and Receive Products and Services For Free
Freebay app provides access to unlimited freebies worldwide or within a city, and it's an excellent place for NGOs, shops, and startups to build their brand by giving and sharing to people in need
Gaurav Rana announces Freebay App and community to get free products and services and give free stuff away. The app's purpose is to encourage people to give away items for free in the spirit of love, charity, and kindness and promote community engagement through sharing.
The Freebay App is available on the Google play store for free download. Within few minutes, users can create their profile and start using the app. Users can browse categories to find free items like travel, medical support, Covid-19 relief, food, business, parties, hotels, courses, etc. Set a preferred location to find giveaways nearby or use a free calling app to remain connected to friends, loved ones, and family.
"Freebay aims to encourage companies, NGOs, and the government to provide free products and services as much as possible, mainly those services that are basic needs like free food, free shelter, free education, and free transport," said Gaurav Rana, founder of Freebay App. "If you like our concept, we encourage you to please support our platform by installing our app and sharing it with others as the more installs we get, the more powerful our idea gets since the number of installs will directly get the attention of companies, NGOs, government, and also the common people."
Individuals who have extra items in their homes can use the app to give them away to those who want them. The app makes giving easy because the recipients are already there, and they are people who need those items in the first place. NGOs can also register with the platform to streamline their giving activities. In addition, it offers them a free tool to find beneficiaries and donors.
Shops and startups can use Freebay App to build a reputation for their brand and earn loyalty and sympathy in their local community. For example, shops that give to the needy will get the attention of people who would love to patronize them for their kind gestures. In addition, startups can do giveaways so people can experience their products and services. It's a great way to attract attention to a brand because when people like the product or service, they will come back and pay to get more.
To download on Google Playstore, please visit here.
About FreeBay App
FreeBay App is a platform and community for people to give freebies and get free products and services. The app is available worldwide and can be set to discover free items within a location, city, or town. It helps to promote the spirit of giving and carrying, using the power of technology.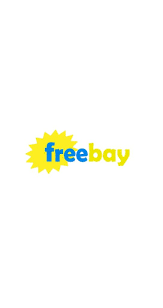 Media Contact
Company Name: Free Bay App
Contact Person: Gaurav Rana, Founder at Freebay
Email: Send Email
Country: India
Website: play.google.com/store/apps/details?id=in.freebay.app&hl=en_IN&gl=US