AL Amyloidosis Market Disease and Treatment Algorithm by DelveInsight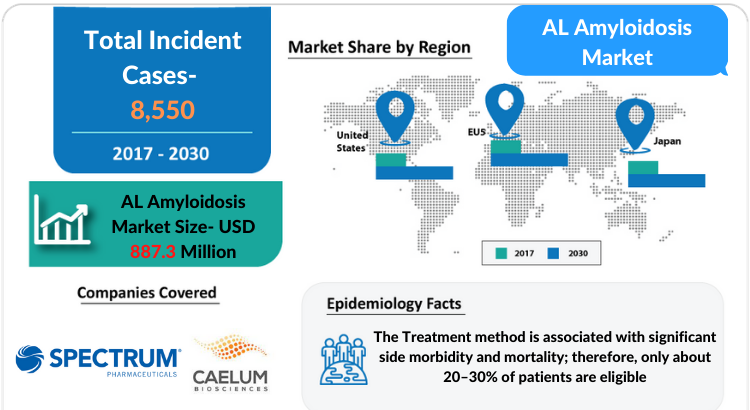 "AL Amyloidosis Market" report has been added to DelveInsight
AL Amyloidosis Overview
Amyloid light-chain (AL) amyloidosis, also known as primary amyloidosis, is the most common form of systemic amyloidosis in the US. The disease is caused when a person's antibody-producing cells do not function properly and produce abnormal protein fibers made of components of antibodies called light chains.
AL Amyloidosis Market: Insights
DelveInsight's 'AL Amyloidosis – Market Insights, Epidemiology, and Market Forecast—2030' report delivers an in-depth understanding of the AL amyloidosis, historical and forecasted epidemiology as well as the market trends in the United States, EU5 (Germany, Spain, Italy, France, and United Kingdom), and Japan.
Request free sample copy- https://www.delveinsight.com/sample-request/al-amyloidosis-market
Regions covered
The United States
EU5 (Germany, France, Italy, Spain, and the United Kingdom)
Japan
AL Amyloidosis Market: Symptoms
AL amyloidosis can affect many organs, resulting in the following signs and symptoms: swelling of the feet or legs, leg weakness, weak toenails, lightheadedness upon standing, purple color on the eyelids and/or around the eyes, enlarged tongue, poor appetite, and many more.
AL Amyloidosis Market: Diagnosis
Early diagnosis remains vital for improving treatment efficacy and overall survival. Earlier diagnosis and better treatment options have reduced early deaths and improved survival in the past few years. When amyloid deposits are detected in biopsy samples, accurate identification of the precursor protein is crucial to guide treatment. This is feasible using immunohistochemistry, in highly specialized laboratories, and using immune-electron microscopy. The mass spectrometry-based analysis of the amyloid-containing tissues is now considered the best approach, with a reported sensitivity of 88% and specificity of 96% higher than immunochemical techniques. Also, the mass-spectrometry-based analysis does not require a large panel of antisera to identify non-AL amyloidosis.
AL Amyloidosis Market: Treatment
Treatment for AL amyloidosis is tailored to the patient with their health in mind. The type of treatment is based on disease progression and the seriousness of the patient's organ, tissue, and nerve involvement. Supportive treatment is helpful for various symptoms, including cardiac and kidney problems, and can change many people's quality of life.
AL Amyloidosis Market: Insights
There is no cure for patients with AL amyloidosis, but more frequently, patients go into remission with drug therapy. It is believed that the majority of patients surviving the first 6 months can often start recovering thereafter and can typically live normal or near-normal lives for years to come.
AL Amyloidosis Market: Therapies Report
In source therapy, different therapies like stem cell transplant and combination therapy are used. In the US, a stem cell transplant (SCT) is often the preferred therapy, as it can provide long-term control of the underlying disease. However, only a minority of AL patients are eligible for this. For the majority of AL amyloidosis patients, and in many other countries outside the US, other chemotherapy-based treatments are considered. Patients with AL amyloidosis have benefited from the recent development of new drugs for myeloma, many of which work effectively on the plasma cells that cause AL amyloidosis.
AL Amyloidosis Market: Outlook
High-dose melphalan followed by ASCT is one treatment option included in the National Comprehensive Cancer Network guidelines. Induction with high-dose melphalan followed by ASCT has significantly impacted the ability to achieve a deep hematological response, organ response, and improved survival in patients eligible for this procedure. In recent years, bortezomib-based regimens were more frequently used as a pre-ASCT induction and increased survival. This treatment method is associated with significant side morbidity and mortality; therefore, only about 20–30% of patients are eligible. The PFS by period among the ASCT-treated patients was in the range of 53 months and giving survival for more than 2 years. HSCT and its associated complications are costly, depending on patient characteristics, transplant center experience, graft type, hospitalization duration, and transplantation complications. Further, hematological relapses or progression after ASCT occurs in 36–38% of patients at a median of 2.0–4.3 years after treatment.
Table of content
1. Key Insights
2. Executive Summary of AL Amyloidosis
3. Competitive Intelligence Analysis for AL Amyloidosis
4. AL Amyloidosis: Market Overview at a Glance
5. AL Amyloidosis: Disease Background and Overview
6. Patient Journey
7. AL Amyloidosis Epidemiology and Patient Population
8. Treatment Algorithm, Current Treatment, and Medical Practices
9. Unmet Needs
10. Key Endpoints of AL Amyloidosis Treatment
11. Marketed Products
12. Emerging Therapies
13. AL Amyloidosis: Seven Major Market Analysis
14. Attribute analysis
15. 7MM: Market Outlook
16. Access and Reimbursement Overview of AL Amyloidosis
17. KOL Views
18. Market Drivers
19. Market Barriers
20. Appendix
21. DelveInsight Capabilities
22. Disclaimer
23. About DelveInsight
AL Amyloidosis Market: Report Highlights
In the coming years, the AL amyloidosis market is set to change due to the rising awareness of the disease and favorable environment for new anti-infective modalities that would expand the size of the market to enable the drug manufacturers to penetrate more into the market
The companies and academics are working to assess challenges and seek opportunities that could influence AL amyloidosis R&D. The therapies under development are focused on novel approaches to treat/improve the disease condition
Major players are involved in developing therapies for AL amyloidosis. The launch of emerging therapies will significantly impact the AL amyloidosis market
Our in-depth analysis of the pipeline assets across different stages of development (Phase I/II, and II), different emerging trends, and comparative analysis of pipeline products with detailed clinical profiles, key cross-competition, launch date along with product development activities will support the clients in the decision-making process regarding their therapeutic portfolio by identifying the overall scenario of the research and development activities.
About DelveInsight
DelveInsight is a Business Consultant company and serves as a Knowledge Partner across the value chain of the Pharmaceutical Industry. With the use of proprietary databases and analytical models, DelveInsight provides cutting-edge market and pipeline analysis and API intelligence across all therapy areas to the Pharma and biotech sector, helping clients to quantify market events and evaluate their impact on the valuation of products, portfolios, and companies.
Media Contact
Company Name: DelveInsight Business Research LLP
Contact Person: Yash Bhardwaj
Email: Send Email
Phone: +919650213330
Address:304 S. Jones Blvd #2432
City: Las Vegas
State: NV
Country: United States
Website: https://www.delveinsight.com/